From $ 4995.00 USD
Route: Technical Characteristics: Route Profile:  Medium. This tour is a combination of gravel and paved roads. Roads are in good condition and there are some slopes – mostly in the Colonia / Carmelo and Garzon rides which make the ride…
Overview
Trip Outline
Pricing
Trip Includes
Trip Excludes
Gallery
Reviews
FAQ
Route:
Technical Characteristics:
Route Profile:  Medium. This tour is a combination of gravel and paved roads. Roads are in good condition and there are some slopes – mostly in the Colonia / Carmelo and Garzon rides which make the ride challenging but easy going.
Distance:  224 km
Travel Season: Sunday departures from January 3 - April 30 and September 1 – December 15, 2022
Low Season: March 1 - April 30 and September 1 – December 15
High Season: January and February
Blackout Dates: December 24 – January 2; February 26 – March 1 (Carnival) and April 9 – April 17
*Group rates available for this tour.  As this is a guided tour, the pricing improves with more people participating. Please ask us for details
Accommodation:
Variety of 3* and 4* hotels in superior rooms, all with private facilities
Hop on your bike and join us in this cycling trip full of surprises! Beautiful diverse landscape, delicious local gastronomy and authentic encounters with locals that will make want to stay in Uruguay! This tiny country in South America is a true traveler and cyclist's paradise! This cycling tour begins in Pueblo Eden, amidst hills and valleys with outstanding views of vineyards and olive plantations. We will ride the panoramic route 12 that travels through a range of hills with beautiful scenery and continue along the coast to discover the Eastern highlights of Jose Ignacio and Garzon. Learn about the Uruguayan wines and extra virgin olive oil and meet local personalities that will help you understand the culture of this tiny country nestled between Brazil and Argentina. Join us on a cycling tour in Uruguay and experience the trip of a lifetime!
Itineraries
Day 1
Montevideo 18 km
Meet your guide at the Airport of Montevideo and transfer to the hotel. Dressed to bike, you will be driven to the "Mercado Del Puerto", a vibrant waterfront market where you will get a true taste of the culture at a typical Parrilla (BBQ) for lunch. Take in the energy and buzz of the market one last time before starting your ride along the 'Rambla', the coastal avenue that separates Montevideo from the shores of the Atlantic.
Day 2
Hills and Countryside 36 km
Today's ride takes us to the hilly region of northern Maldonado. Our day begins at Savia Olive Plantations where we learn about the production of extra virgin olive oil. We will bike along local trails and the panoramic routes 12 and 60 until we reach a local countryside house where we will enjoy lunch overlooking a lovely 360 degree view of the hills. After lunch, we will continue riding to our hotel. Tonight we enjoy homemade dinner at the ranch.

Day 3
Pueblo Eden, Wines and Olives 47 km
This morning we will bike to the small charming town of Pueblo Eden for a quick visit of the Main Square and chapel. Our ride will then continue to Viña Eden winery located on the rocky outcrops of the town, an exceptional place where wines combine the climate of the hills and freshness of the Atlantic Ocean. Enjoy a tasting and light lunch overlooking the vineyards before continuing the ride along the panoramic route 12 to Laguna Del Sauce.
Day 4
Punta Del Este and Atchugarry Sculpture Park 44 km
Our day starts with a drive to the amazing Casapueblo museum, a bright white, honeycomb shaped structure perched on a cliff over the Atlantic. The museum is the starting point for our ride through Punta Del Este, which leads us by small seaside villages and arrives to the Fundación Pablo Atchugarry Sculpture Park. Your guides will prepare a picnic lunch beneath the trees and in the midst of the outdoor sculptures and art installations. Keep your body moving back on the bike as we cycle along the shimmering shoreline of La Barra seaside town to your next hotel. Enjoy a well-deserved poolside cocktail on arrival.

Day 5
Laguna Garzon and Town of Jose Ignacio 45 km
Get ready to be awed by the small town of Jose Ignacio and the protected area of Laguna Garzón, where the departments of Maldonado and Rocha converge. We will bike along the coast to the small town of Jose Ignacio and make a stop at the lighthouse. Continue riding along the coastline to El Caracol, and discover a secluded spot within the forest. For lunch, try your hand at cooking regional dishes the traditional way: with fire! The afternoon's golden hour will find us riding along local trails to our next hotel. Tonight we enjoy dinner beneath the stars at the estancia's Patio.
Day 6
Ride to the Little Uruguayan Tuscany of Garzon 34 km
Today, we bike to Pueblo Garzón, founded in 1892 by Fermin de León. We will visit the main square and old train station of this charming town where time seems to have stopped centuries ago. We will hop in our van and drive uphill to the amazing Bodega Garzon. After a tour of the property, sit down to an indulgent wine and olive oil tasting before we enjoy a delicious lunch overlooking a spectacular landscape of vineyards and rolling hills. Return to our hotel for some downtime before we reconvene for a seaside meal to remember at La Huella.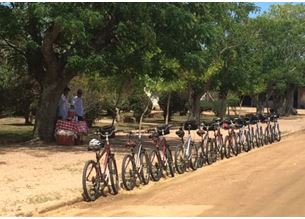 Day 7
Departure
After breakfast, your guide will transfer you to the Airport as you head on to your next destination

Included:
6 nights at selected accommodations
Daily breakfast, lunch and 3 dinners
Private transfers throughout the itinerary including support vehicle
Bike, helmet and mechanic support throughout the ride
Water and snacks during the tour
Entrance to museums, natural reserves or national parks mentioned in the description of the itinerary
Not Included:
Meals that are not mentioned in the tour description
Soft drinks or alcoholic drinks during meals
Tips for guides or drivers
Ferry or air tickets